Participate in the Snickers Duo Woohoo Cashback Offer & get Rs 50 cashback through UPI OR Bank Transfer.
It's a new offer from Snickers titled " Snickers Duo Program ", where you just need to enter a unique code to receive cashback.
In order to participate in this offer, you just need to purchase a Snickers Duo pack of 80g and find the unique code printed inside the Snicker.
This cashback program is valid from 26th April 2023 to 30th November 2023. Participate in the offer during the promotional period to get cashback ₹50.
---
Snickers Noobie Mistake Cashback Offer ( 100% Cashback ):
Snickers is back with another cashback offer named "Snickers Noobie Mistake Offer", which will give you 100% cashback if you purchase the Noobie Mistake pack.
This offer is valid from 14th August 2023 to 26th December 2023. Purchase the promo pack during the offer period to avail the cashback.
How To Participate?
Purchase the Snickers Noobie promo pack from a nearby store.
Now search for the Reward code inside the pack.
Now CLICK HERE to visit the Snickers redemption page.
Enter the reward code & all other details & tap on submit.
Claim the cashback amount using UPI/Wallet.
You will get 100% cashback, which means the Snicker bar will be free.
---
Snickers Duo Woohoo Cashback Offer Details:
Offer Name:
Snickers Cashback Program
Validity:
26th April 2023 to 30th November 2023
Cashback Amount:
₹50
Timings:
12 AM To 12 PM
Contact Support:
Call On: 080-67181401
Mail On: [email protected]
Unique Code:
Printed inside the Snicker
---
How To Claim Cashback From Snickers Offer?
1) First, purchase the Snickers promo pack of 80g from your nearby store.
2) Then search for a unique code inside Snickers Bar.
3) Now, Click Here to redeem the code.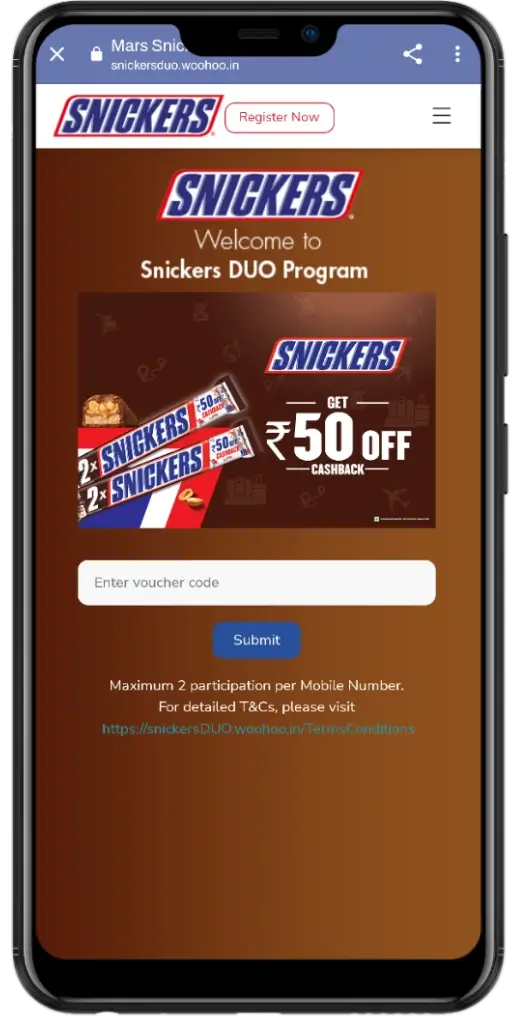 4) Enter the voucher code & tap on the submit button.
5) Now enter your name and mobile number & verify it through OTP.
6) Select the NFT/UPI option to claim the cashback amount.
7) The amount will be credited to your selected wallet within 4 working days.
---
Terms & Conditions:
You can avail cashback amount 2 times from a single mobile number.
The unique code cannot be redeemed after the expiry of the promotion period.
Participants will receive the cashback within 4 working days.
1 unique code can be redeemed only once during the Promo Period.
---
My Opinion:
If you are purchasing Snickers during the promotional period, you must use this offer to avail the cashback from Snickers.
The offer is for free Snickers, i.e., if you purchase a Snickers, you will receive a flat cashback of Rs 50.
---
FAQS:
Is Snickers Offers Valid Throughout India?
Yes. The offer is valid throughout India.
Can I participate in the Snickers Offer On Weekends?
Yes, you can participate on weekends to avail the cashback.
---