Participate in the "Park+ Petrol League" by predicting which team will win the ICC match today & get a chance to win free petrol.
In order to make this World Cup more interesting for Park+ users, this predict and win feature has been introduced.
Every day you just need to bid for your team & get a chance to win Rs 100 Petrol free.
By using the Park+ app, you can solve your car-related issues, such as booking parking online, checking challans, recharging Fastag, and much more.
---
How To Participate In Park+ Petrol League?
1) CLICK HERE, to download the Park+ app from the Play Store.
2) Open the app and click on " Sign in with phone number ".
3) Enter your phone number and verify it through " OTP ".
4)  At the home section you will have a banner for Park+ Petrol League. Visit that.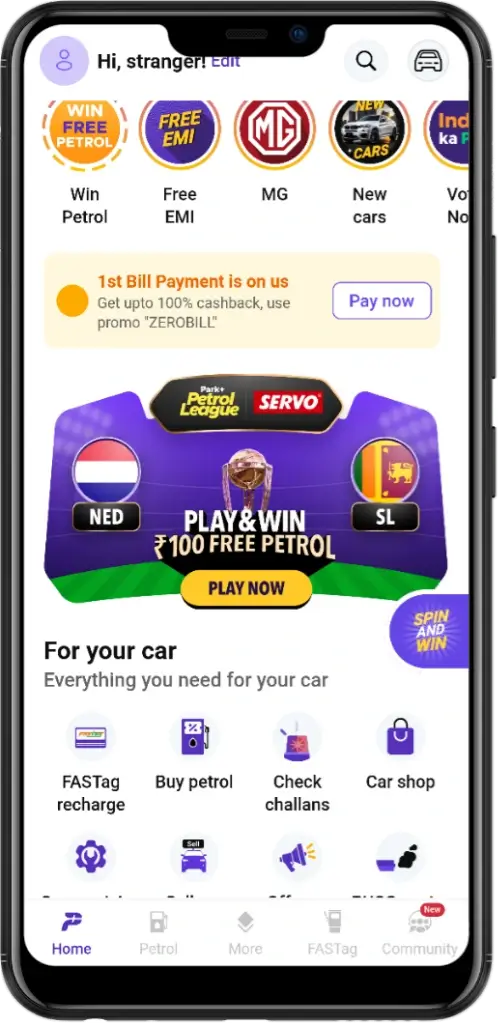 5) Now every day you will get a chance to bid for the team you think will win.
6) In order to bid you need petrol in your Park+ account.
7) You can start bidding from 10 ML to as much as you can.
8) If your prediction is correct you will win the double petrol.
Note: Lucky winners also get a Free Indian Oil Voucher.
---
My Opinion:
Lastly, As the petrol price is high at present and you can claim free petrol, I think this app is a great chance for every user. Since petrol is a necessary component of our lives.
---
FAQS:
What Is Park+ Petrol Offer?
Park+ has a predict-and-win offer where you can predict the ICC Match to win free Petrol daily.
How To Redeem Park+ Petrol?
You can redeem the Indian Oil voucher code as soon as you reach the 5L of fuel in the Park+ App.
---