Myglamm Free Lipstick Offer: The unique code can be redeemed from Paytm & with it you can claim several Myglamm lipsticks for just Rs.1.
Myglamm Makeup products are available from Paytm for just Rs.1. All you need to do is claim the voucher code from Paytm and redeem it on Myglamm's website/App.
In order to take advantage of this amazing offer, you must install the Paytm app on your device and have a verified KYC account.
To avail the voucher code, you also need some cashback points. You can easily earn cashback points by doing recharges or doing certain transactions on the Paytm App.
Cashback points can be claimed by scratching the scratch card. So when you make a transaction on the Paytm app, you will get a scratch card.
Recently we have also updated you with the " St Botanica Free Shampoo Offer " & Meesho App Rs 9 Sale Offer. I hope you enjoy those offers too.
---
MyGlamm Friendship offer: Claim Free Mackup ( Just Pay Shipping )
Currently, MyGlamm is running a promotion called "MyGlamm Friendship Has Benefits" where you can claim Mackup products for free & pay just for shipping.
From this offer you can claim 4 types of deals which are as follows:
Free Lit Lipstick Worth Rs 395 Or More.
Pick One Product For Rs 99.
Flat Rs 500 Off On Selected Products.
How to claim this deal?
1) CLICK HERE to visit the offer page.
2) Claim any of an offer as per your need.
3) Now move to the next page & there you will see products for ₹1 or ₹99.
4) Add the product to your cart & the discount code will apply automatically.
5) Pay the shipping charges & place the order.
---
Myglamm Rs 1 Lipstick Offer Details:
The following Myglamm products are available on Paytm for just Rs.1:
Pose HD Lipstick at Rs.1.
Pose HD Highlighter at Rs.1.
LIT Matte Lipstick at Rs.1.
Liquid Matte Lipstick at Rs.1.
Matte Lip Crayon at Rs.1.
---
How To Claim Myglamm Free Lipstick From Paytm?
1) First, CLICK HERE to download the Paytm app & create your account.
2) Now scroll down & move to cashback & offers section.
3) In the cashback & offers section visit Products at Rs 1 section.
4) Now again click on " Product At Rs.1″.
5) Here you will have a complete list of Myglamm products which you can claim for Rs 1.
---
How To Get Myglamm Lipstick For ₹1?
1) Choose any of the products that you want from the Myglamm product list.
2) Here I have selected Pose HD Lipstick + LIT Liquid Matte Lipstick.
3) You may now avail of the coupon code by purchasing the deal at Rs.1 or using 5 cashback points.
4) As soon as you claim the deal, you will receive a unique voucher code. Copy it and click the redeem now button.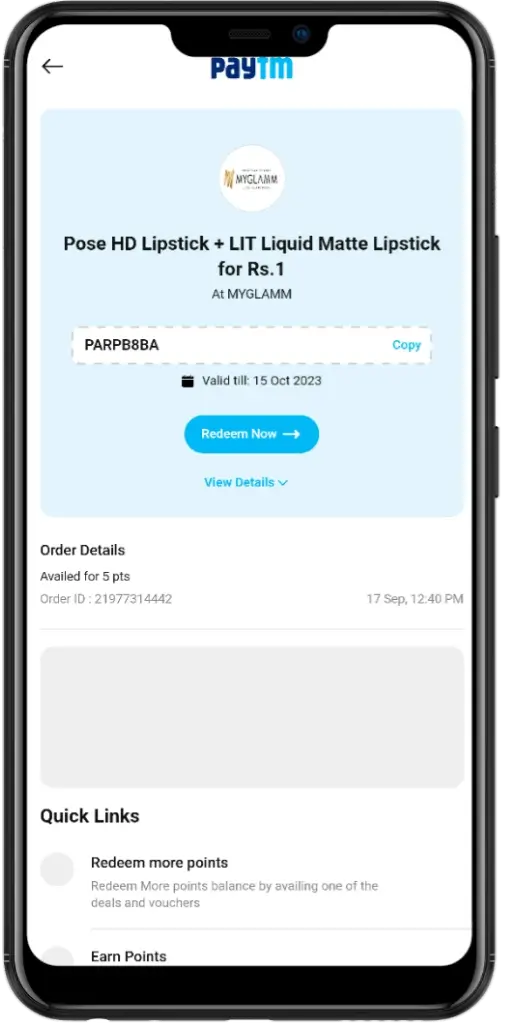 5) Simply, add the product to your cart & apply the coupon code.
6) You will have to pay Rs.198 in shipping charges along with the product cost of Rs.1.
7) To avoid the shipping charges, you can add any of the products from the Myglamm app for a minimum of Rs.199.
8) Apply the same process for claiming other Myglamm products on Paytm.
---
My Opinion:
Here is a great offer for users who love to shop at Myglamm. You can buy a variety of Myglamm products for just Rs.1 as discussed in this post.
Take advantage of this deal as soon as possible as it is only valid for a limited time.
---
FAQS:
How to get free products on MyGlamm?
You can check the Paytm app cashback & offer section to claim Myglamm coupon codes. Use that code in the Myglamm app to redeem free products.
Is Myglamm-free lipstick fake or real?
The Lipstick is real & has a smooth texture and a long-lasting shade.
---