Munch Win Laptop Lot Code is " 31640454N1 ". SMS the code to " 6262642222 " & stand a chance to win a free laptop worth Rs 1 lakh.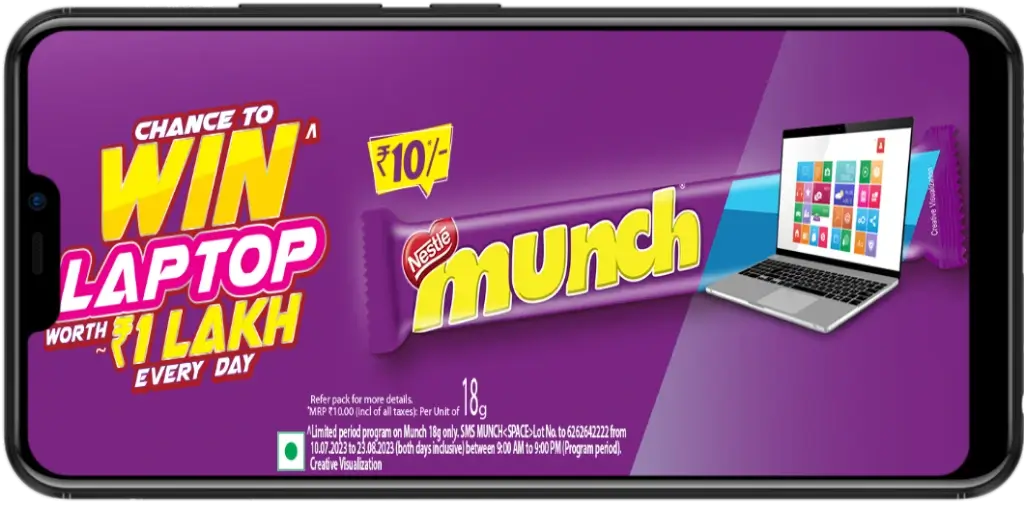 Here's a new contest launched by Nestle India Limited in which you just need to SMS a valid Lot Code in order to win a Laptop.
This offer is valid from 10th July 2023 to 23rd August 2023. Participate during the program period to be eligible for the reward.
To be eligible for a valid entry, participants must send a valid Lot Code between 9.00 AM and 9.00 PM.
---
Munch Win Laptop Lot Code Contest Overview:
Contest Name:
MUNCH LAPTOP Promo
Validity:
10th July 2023 to 23rd August 2023
Prize:
Worth Rs 1 LAKH Laptop
Winners:
Daily 1 Winner
Total – 45 Winners
Sms Number:
6262642222
Munch Win Laptop Lot Code:
31640454N1
31650454N1
31660454N1
31670454N1
31680454N1
31690454N1
31700454N1
Visit Offer Page:
CLICK HERE
Customer Care Details:
Email: [email protected]
Call: 9511948588
Cadbury Gems Cricket Game Offer
---
How To Participate in Munch Win Laptop Promo:
1) First of all, purchase the MUNCH Pack (18g) worth Rs 10.00 from your nearby grocery store & must check that it should be a promo pack.
2) Now search for the 10-character code which is mentioned on the back of the pack.
3) Now send that unique code to " 6262642222 " in the below-given format.
MUNCH <space> LOT no. to 6262642222
4) If you are selected as a winner, you will receive an SMS with a reward code and a redemption link to claim your prize.
5) Daily 1 winner will be selected from the reward.
6) Lucky winners will get a chance to win a Laptop.
---
Below Rules Are Only For Tamil Nadu's Participants:
Tamil Nadu Customers – the user gets a question to answer by following the format prescribed on the pack.
During the entire contest, only two participants from Tamil Nadu will be selected as winners based on their uniqueness and creative answer.
---
How To Redeem Munch Reward Code/ Unique Code/ Batch Code/ Lot Code:
1) If you are a lucky winner, then you will receive a link & reward code to claim your prize.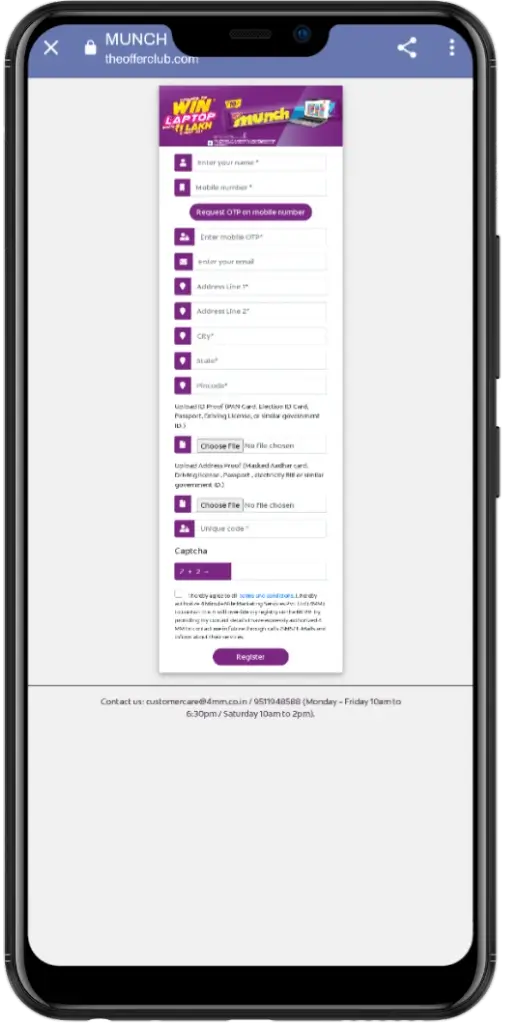 2) Click on that link & fill in the details like your name, mobile number, address, city, and pin code. Now Upload ID Proof (PAN Card, Election ID Card, Passport, Driving License, or similar government ID.) & Upload Address Proof (Masked Aadhar card, Driving license, Passport, Electricity Bill, or similar government ID.)
3) Lastly enter the unique code/ Batch Code/ Lot Code that you get from Munch.
4) The reward will be delivered soon to your doorsteps.
---
Terms & Conditions:
The participant is eligible to win only 1 prize from a single mobile number, Email Id, and Address during the program period.
The Participant shall be above the age of 18 years.
The last day for the winner to share their KYC details is 19th Sept.
Max. 1 prize for a single mobile number during the entire Program Period.
---
My Opinion:
MUNCH has run several such contests in the past, and now is the time to try your luck with the MUNCH LAPTOP contest.
Hence, this contest is valid for a limited time only, so purchase the promo pack & complete your entry in the contest as soon as possible.
---
FAQS:
What is the SMS format for Munch LAPTOP Contest?
MUNCH <space> LOT no. to 6262642222
How to check the winning list for the munch LAPTOP contest?
What Is Munch LAPTOP Lot Code?
You can try any of the below code:
31640454N1
31650454N1
31660454N1
31670454N1
31680454N1
31690454N1
31700454N1
---