Take part in the Lenskart Cricket Fever Contest & win free merchandise such as a signed ball, Fridge magnets, and autograph bats, and receive assured Lenskart cash.
The "ICC World Cup 2023" will start soon, so Lenskart has organized a contest called " Cricket Fever Play & Win " in which you have to play cricket games & score high runs to win.
You will earn points based on the runs you make in the cricket games. These points will be automatically converted into Lenskart cash, which you can use to get a discount.
Additionally, with Lenskart cash, the users with the highest score will also be eligible to win merchandise.
---
How To Participate In The Lenskart Cricket Fever Contest?
1) CLICK HERE to download the Lenskart app from the Play Store.
2) Create your account & visit the home dashboard.
3) Scroll down to "Cricket Fever – Sky's Looks" & turn the banner to the right.
4) Here you will have a banner for "Bat Like Sky & Win". Click on that.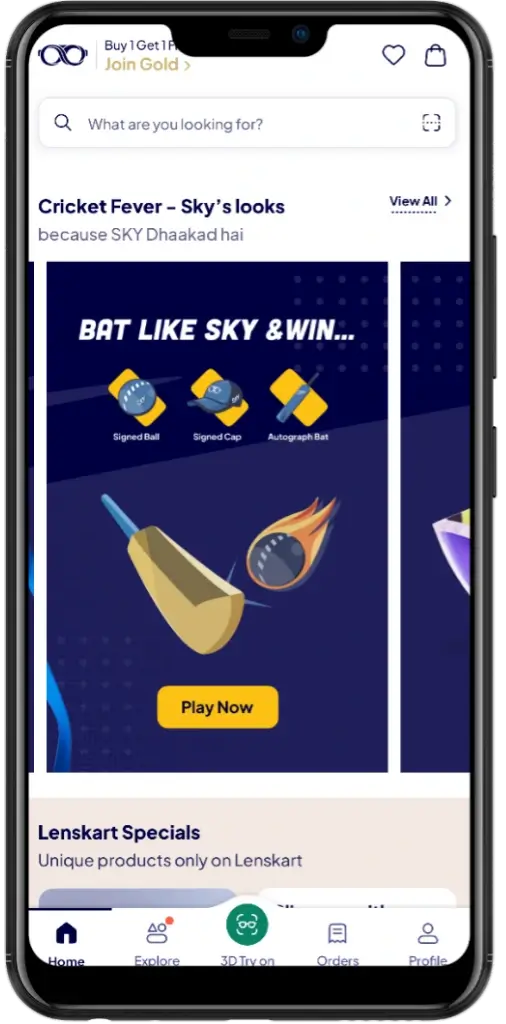 5) Now tap on the Play Now button & start playing the cricket game.
6) You will only get one wicket. As soon as you lose the wicket, your game is over. You can also restart the game.
7) By gaining more scores, you will receive more points, which will be converted into Lenskart Cash that can be used for discounts on Lenskart purchases.
8) Top scorers will also get a chance to win a Signed Ball, Fridge Magnet, and autograph Bat.
---
My Opinion:
As a result, the Lenskart Cricket Fever Contest is a great deal for cricket lovers. All you have to do is play a simple game of cricket and try to score as many points as you can, and then you'll be entered to win a prize.
---