Participate in the GooglePay Britannia 5050 Offer and collect all 8 game cards to win up to Rs 100 cashback & a cricket match ticket.
In partnership with Britannia, GooglePay is running a new campaign called " Britannia 5050 4th Umpire ". To participate in the quiz game, you need to enter a 16-digit game code. By doing this, you will receive cards. To receive up to Rs 100 cashback & a match ticket, you must collect all 8 cards.
There is a 16-digit game code printed behind the promotional pack for Britannia, but you don't need to purchase any pack since we will update the Game Code here. You can use our provided Game Code to play the game.
This campaign is valid from 15th September 2023 to 30th November 2023. Make sure to participate during the offer period to be eligible for the reward.
Join Our Whatsapp Channel: CLICK HERE
---
GooglePay Britannia 5050 Offer Overview:
| Offer Name: | GPay Britannia 5050 |
| --- | --- |
| Cashback: | Upto Rs 100 |
| Other Rewards: | 7,500 jerseys, 2,000 smartwatches, 500 cricket kits and 250 Cricket Match Tickets |
| Valid Till: | 30th November 2023 |
---
How To Participate In GooglePay Britannia 5050 Offer?
1) CLICK HERE, to download or update your Gpay app & create an account.
2) Now CLICK HERE to visit the offer page directly.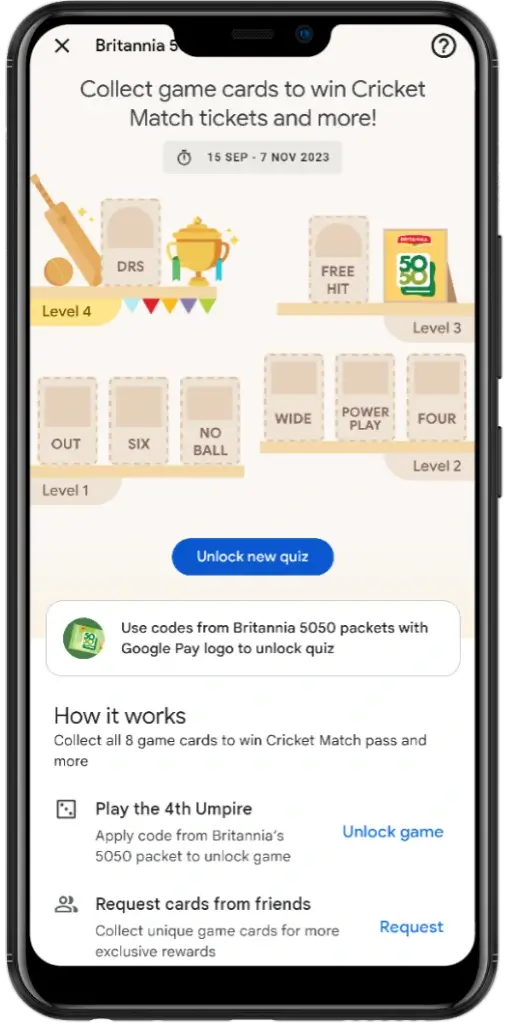 3) Here there are 4 different levels ( Level 1, Level 2, Level 3 & 4. )
4) To complete this level you need to collect 8 different cards.
Level 1: Collect all 3 unique game cards and earn ₹10-₹25 cashback in the form of a scratch card.
Level 2: Collect all 6 unique game cards and earn ₹25-₹100 cashback in the form of a scratch card.
Level 3: Collect all 7 unique game cards & win merchandise.
Level 4: Collect all 8 unique game cards and win a cricket match ticket.
---
Britannia 5050 4th Umpire ( How It Works )?
1) The first step to collecting the cards is to play the 4th umpire game and to play the game you need to have the Game Code. The Game Code is available on the Britannia promotional pack.
The following gameplays are included in each Promotional Pack:
5050 Sweet and Salty: 2 gameplay
5050 Maska Chaska: 3 gameplay
5050 Golmaal: 4 gameplays
5050 Potazos: 4 gameplay
Note: I have already provided you with the Game Code so there is no need to purchase any pack.
2) Now in order to play the game tap on "Unlock Game" & it will ask you to scan the 16-digit code with the camera.
3) We have already uploaded the promotional pack images with the code to our Telegram Channel. Join the channel & scan the pack you will get the gameplay.
GooglePay Britannia Game Code Are: 3488274071697771, 5481313475356091, 5481313335496091, 5481313185646091, 7355062931356841, 3488274031737771, 3488274041727771, 5756348773894721, 5756348903764721, 3756469189793641, 3756468880093641, 5481313585246091, 5756348673994721, 5756348803864721, 3489056449327771, 3489056039737771, 3489056429347771, 7176549375478651, 7176549405448651, 7176549235618651, 5930481112987871, 5737787431039571, 5750106480405111, 7147415636484011, 5010946795225411, 7147415656464011, 7147415646474011, 5757240822516851, 5771796464249951, 3667664001104761, 3667699425684761, 3180314082062881, 3994443530007651, 3489520415357771, 3201828632368581, 3201829061938581, 5896998402104251, 9946743975565841, 9946656163375841, 3488214071697771, 9946926263275841
4) After scanning the pack tap on continue & your Game will be started.
5) Now you need to be the 4th umpire of the game & answer the questions correctly.
6) For every right answer you will receive 1 card.
7) Every day you can scan 3 different promotional packs & can play the games 3 times.
8) We will try to upload different promotional packs with game codes on our Telegram channel. So you must join it.
9) You can even Gift the Cards to your friends & can also request the cards from friends.
8) Collect all 8 different cards ( OUT, SIX, NO BALL, WIDE, POWERPLAY, FOUR, FREE HIT, DRS) to win match tickets & cashback.
---
Terms & Conditions:
In order to claim the Merchandise & Match Ticket you need to enter the redemption code on Britannia's website. (AA redemption code will be provided to you as soon as you collect all required cards )
Rewards are limited only, so you need to complete the offer as soon as possible.
The offer is not valid for the state of Tamil Nadu.
Winners' names and pictures may be published on Britannia's social media accounts.
---
My Opinion:
The GooglePay Britannia 5050 Offer is an outstanding opportunity to get free cashback & to win a free match ticket. The ICC World Cup is just around the corner & if we can win a free match ticket then it will be a great deal of happiness.
Collect all 8 cards as soon as possible, as stocks are limited.
---
FAQS:
What is GooglePay Britannia 5050 Offer customer support number?
For any queries contact Britannia at their Toll-Free Number: 1-800-4254449/1-800-30004530 or email [email protected]
What is GooglePay Britannia Game Code?
GooglePay Britannia Game Code Are: 3488274071697771, 5481313475356091, 5481313335496091
---