Participate in Cadbury Crispello Meet For Treats Contest & get a chance to win a free Swiggy, Cafe Coffee Day, BMS, Dominos, Myntra & Amazon Voucher.
A new contest is being organized by Mondelez India Foods Private Limited in which you just need to create a group & the group needs to collect points to win Vouchers.
As soon as your group is created, you can create a QR code and ask your friends to scan it. As soon as your friends scan the QR code, your group will receive points. The more points your group has, the better chance you have of winning a voucher.
You must participate in this campaign between 1st July 2023 to 31st August 2023 in order to qualify for the prize.
---
Cadbury Crispello Meet For Treats Contest Prize Details:
During the contest, there are 3 types of Rewards that will be given to the users which are (Daily, Weekly, and Friendship Day Rewards).
The rewards are as follows:
A Swiggy & Cafe Coffee Day voucher worth Rs 200 will be given to the top 100 groups on the daily leaderboard.
A BMS, Dominos & Myntra voucher worth Rs 1,000 will be given to the top 50 groups on the weekly leaderboard.
Friendship Day Jackpot Reward:
On Friendships Day (6th August 2023), the top 15 Groups with the highest cumulated points since the start of the Campaign will be eligible to win the Friendships Day Rewards of INR 10000 Amazon gift voucher.
If you count as a winner you will get a unique code & a link through SMS to claim your winning prize.
---
How to Win Daily Vouchers from Cadbury Crispello Contest?
1) ( OVER ) CLICK HERE to visit the official offer page.
2) Now enter your mobile phone number & verify it using OTP.
3) Enter your name, email id, and squad name & select the group size.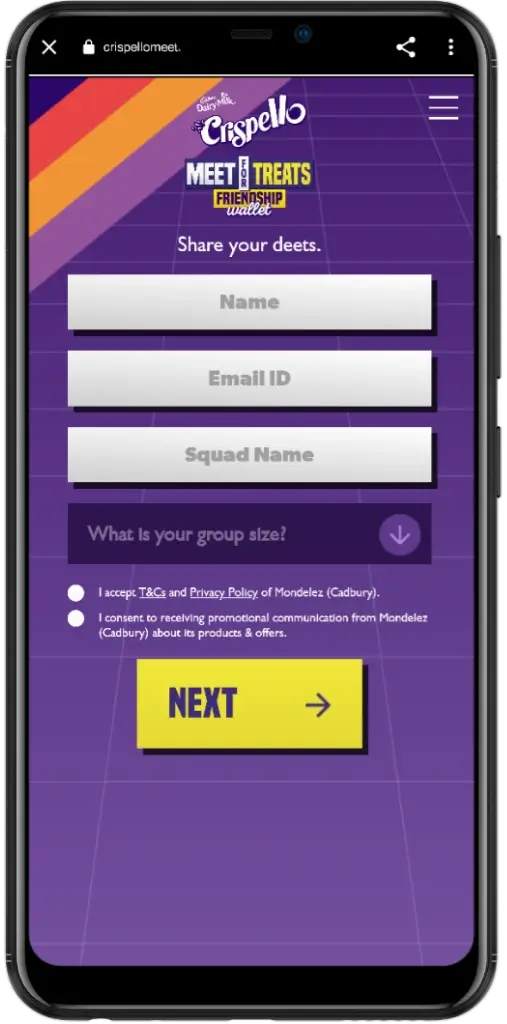 4) Group size is from 2 to 6. ( Must create a group of friends in order to participate in this contest ).
5) After making a group send your Group link to friends & ask them to join.
6) As they join, Make your QR Code & ask them to scan it through a Google scanner. On each scan, You will get 100 Points.
7) Meet on a daily basis & scan the QR code to receive more points.
8) Be a part of the leaderboard in order to receive the voucher.
---
Cadbury Crispello Meet For Treats Contest Customer Support:
---
My Opinion:
My opinion is that the Cadbury Crispello Meet For Treats Contest is a great way to earn free vouchers. However, there are too many prizes so there are high chances of winning.
Just create a group & start collecting the points to earn free vouchers.
---
FAQS:
Is this campaign valid for Tamil Nadu?
It's not valid for the State of Tamil Nadu as per the Tamil Nadu Prize Schemes Prohibition Act, 1979.
How the winner will be selected?
The selection will be made through a computerized randomizer/selection process.
---