Complete Binance Pay x Trust Wallet Quiz Answer & get a chance to win a share of 38,000 ARB in rewards.
Trust Wallet and Binance have launched a new campaign for Trust Wallet users in which they will learn about self-custody principles and how to get started on their DeFi journey with Trust Wallet using Binance pay.
This campaign is valid from 24th July 2023 to 6th August 2023. The first 38,000 eligible participants who give correct answers will be eligible for the reward.
A user must create an account on Trust Wallet to be eligible for the reward. If they win, the reward will be automatically credited.
---
How To Take Binance Pay x Trust Wallet Quiz:
1) CLICK HERE to download the Binance app & create your account. Must complete your KYC process.
2) Now CLICK HERE to take the quiz.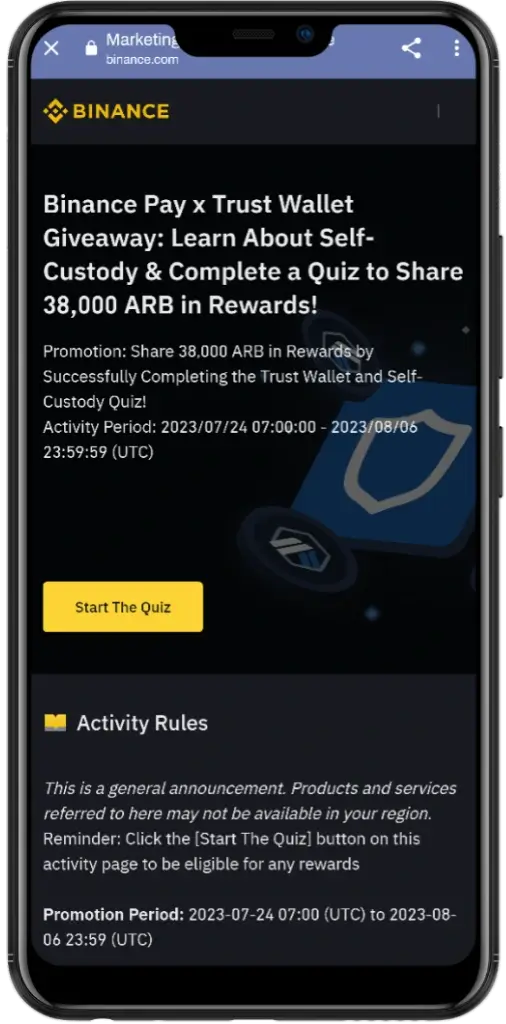 3) The first 38,000 users who give the correct answers will receive 1 ARB in their Trust Wallet.
4) Users may attempt the quiz multiple times until they correctly answer all the questions.
---
Binance Pay x Trust Wallet Quiz Answer:
Q1) Which of the following best defines Trust Wallet?

ANSWER: A fast and secure multi-crypto wallet with a Web3 browser for interacting with decentralized applications (DApps).

Q2) What type of DeFi Wallet is Trust Wallet?

ANSWER: Both mobile and desktop

Q3) Trust Wallet is a self custodial wallet. What best describes self custodial wallets?

ANSWER: A wallet in which the user has full control over their assets

Q4) Which of the following measures does Trust Wallet take to ensure user security?

ANSWER: Retaining user private keys locally on their device and supporting optional passphrase encryption.

Q5) What benefit does Binance Pay's integration with Trust Wallet offer for users when transferring crypto between Binance and Trust Wallet? (Consider the applicable fees during transfers.

ANSWER: It simplifies the process by automatically prefilling the user's on-chain address and network.

Now add your ARB wallet address found in Trust Wallet to receive your reward.
Rewards will be distributed on a first-come, first-served basis.
---