1HappyBirthday Com is an official website that allows you to download any birthday song with a name for free. The birthday song is also available with a video.
We often want to share a special birthday song with our friends, family and loved ones, and 1HappyBirthday makes it easy to do that.
Moreover, 1HappyBirthday offers Birthday Quotes, an Age Calculator, and Special Info like Zodiac Sign, Birth Flower, and more.
With the English language, you can even share the birthday song in many other languages too.
---
1HappyBirthday Com ( How To Get The Birthday Songs )?
1) CLICK HERE to visit the official website.
2) Now tap on the search bar & write the name of the person for whom you want to create the message.
3) After writing the name, you will have different spellings with the name. Select the more precise one.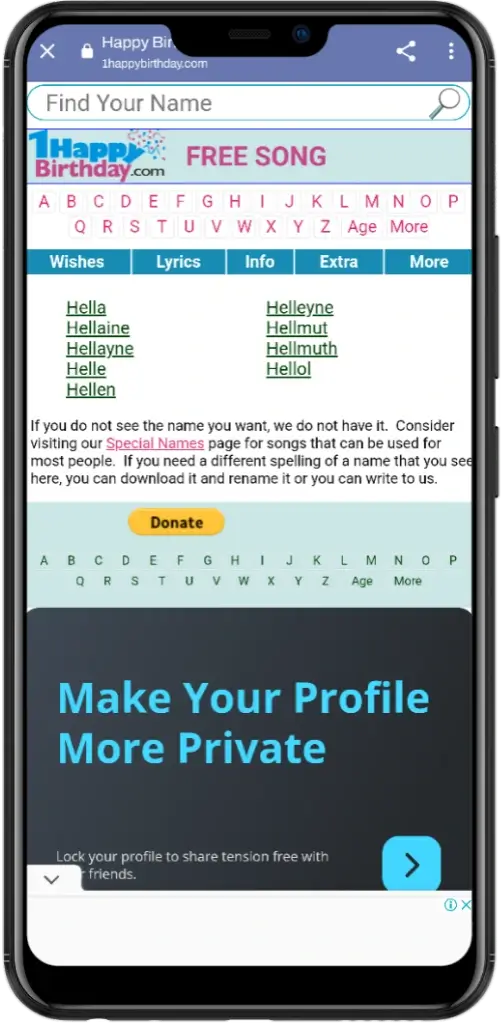 4) Now you will have a birthday song with the Video. There are many other video templates like Spa, Indian Design, Animals, etc.
5) The song is the same in every video template. You can select the one which you want.
6) You will be redirected to "Youtube", where you can share the video link directly or download the video to share.
7) You can even download the song, Email it, or even share it using WhatsApp, etc.
---
How To Request A Song On 1HappyBirthday?
You can even request the song with your desired name if it is not available on the website, but it is not sure that they will accept your request because they already have too many pending requests.
In order to request the song, follow the below steps:
CLICK HERE to request the song.
Tap on "Request a new name here" & fill out the Google form.
By doing so you will get your desired name birthday song.
---
My Opinion:
Overall, The 1HappyBirthday website is a great place to download free birthday songs that we can share with our loved ones and make their birthdays even more special.
If you are looking for a birthday song, then you must try this website & create the song for free.
---
FAQS:
Can we get the birthday songs in Hindi from 1HappyBirthday?
No, the songs are not available in Hindi language.
Does 1HappyBirthday provide unique songs?
Yes, the songs are unique and sung by the artist in the studio.
---